Evaporative Cooling Is an Ideal Solution for Heat-Stressed Animals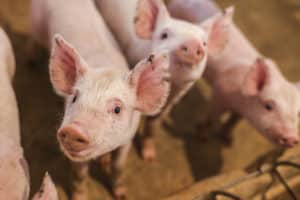 Evaporative cooling is a great way to head off heat stress to animals. Evaporative cooling is a good choice because it:
Cools effectively
Brings in fresh air
Adds humidity to dry air
Easily cools large spaces
Is energy efficient
Is durable under farm conditions
Becomes more effective as the heat climbs
Evaporative cooling is very effective at cooling the air, and can drop the temperature by 30° F under hot conditions while also bringing in fresh air. It doesn't add chemicals to the air, just some humidity. This solves three problems for confined animals.
Evaporative cooling also has no difficulty in cooling very large spaces such as a dairy barn, chicken coop or grow out house. Air conditioning becomes significantly more challenging when trying to cool a large space. At the same time, evaporative cooling is extremely energy efficient. It uses only a quarter as much power as air conditioning to cool a space.
Air conditioning has numerous small parts and is susceptible to breakdown and damage under farm conditions. Evaporative cooling, on the other hand, is highly resilient under farm conditions. The machinery is simple, and it's easy to maintain.
Evaporative cooling also gets more effective as the outside air temperature climbs. Under the hottest conditions, evaporative cooling can drop the air temperature by more than 30° F with no additional stress on the cooler. Under those same conditions, AC efficiency drops by 50%, and the machine becomes increasingly subject to breakdown.
Evaporative Cooling for Post-Harvest Vegetables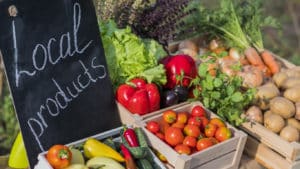 Under high heat conditions, produce can spoil quickly after harvest. While refrigeration might be necessary to ensure the longest life for some vegetables, evaporative cooling can help preserve some vegetables against spoilage in the short term.
In addition, evaporative cooling can be used as part of a two-stage cooling system to provide the most efficient storage for produce.
The benefits of using evaporative cooling for produce include:
Effective cooling
Energy efficiency
Humidification
Easy application at point of harvest
Evaporative cooling provides effective cooling under many conditions. It can drop the temperature by as much as 30° F to help keep crops cool. Using evaporative cooling on produce can reduce spoilage by 80% compared to storing it at ambient temperatures. At the same time, evaporative cooling uses 75% less energy than refrigeration and adds moisture to the air. Since many vegetables store best at humidity levels of 90% and above, the increased moisture helps extend the shelf life of produce even further.
Choose Kuul Agriculture Evaporative Media
When considering the best agriculture evaporative media to help protect your animals and your produce, choose Kuul. When you select Kuul, you will enjoy:
Excellent durability
Effective cooling
Efficient operation
Lowest cost of ownership
One of the biggest concerns about evaporative cooling pads is how long they will last. With proper maintenance, Kuul media can last 5 years or more.
The unique design of Kuul evaporative media promotes better evaporation. This leads to more effective cooling with less energy spent.
During this time, you will enjoy highly efficient operation with Kuul evaporative cooling pads. That's because Kuul evaporative media has the lowest pressure drop available. The pressure drop is a measure of how hard fans have to work to push air through the evaporative media. The harder fans have to work, the more wasted energy in running the fans. Kuul media has a 30% lower pressure drop than other evaporative cooling pads in the industry.
Combining the long life of Kuul products and their efficient operation, Kuul evaporative media has the lowest total cost of ownership of any agriculture evaporative media. This helps keep your costs down to maximize the benefits of evaporative cooling and promote your farm's profitability.
Kuul's Vitality series is designed for maximum efficiency and effectiveness in agricultural applications. They are specifically made to fulfill the demands of barn and other livestock structure cooling systems.
Want to learn how Kuul Vitality can promote profitability on your farm? Please contact us for more information.